NOMAD-Touch Portable Fiber Optic Thermometer
Description

Operated by a 5V battery rechargeable via USB
32MB internal data logging memory
-80 to 300°C range
USB communication link
Large color touch display
No gage factor or calibration
Accuracy of ± 1°C
A portable single-channel fiber optic signal conditioner for temperature measurement
in energy, industrial and laboratory applications.
For a product brochure of the NOMAD-Touch Signal Conditioner, please contact Neoptix
The Neoptix NOMAD-Touch offers impressive versatility. Battery operated for maximum user freedom, this single-channel instrument allows you to freely move from one area to another to measure temperatures at various critical sensing points.
The NOMAD-Touch runs on a rechargeable battery, providing power for at least 5 hours of continuous use. NOMAD-Touch also comes with a universal USB power supply.
The NOMAD-Touch comes with a built-in datalogging feature allowing user to save collected data directly in internal memory. The NOMAD-Touch also feature the SnapLog feature which allows recording of one temperature point with time stamp everytime the SnapLog key is pressed.
The NOMAD-Touch features a large 240 x 320 pixels LCD display with a LED backlight. It provides Celsius or Fahrenheit temperature readings that are well contrasted in any conditions.
The NOMAD-Touch icon-driven user interface is accessible via the tactile display screen. All functions are accessible through the display menu, including internal data logging, instrument setup and configuration, and Expert mode. Datalogging sessions can also be viewed directly on the display.
This multi-purpose instrument comes with a built-in USB interface for remote interfacing. The instrument is a perfect match to Neoptix OptiLink-II™ control PC software. Moreover, all system features are accessible through ASCII commands, facilitating the development of custom routines or proprietary drivers by users.
Part of Neoptix's complete line of fiber-optic sturdy thermometers, which have been in use for more than 10 years, the NOMAD-Touch is a valuable monitoring tool for a wide range of applications in energy, industrial and research activities, such as hot spot monitoring inside power transformers during manufacturing and heat runs. It has also been used in various high voltage applications and MW/RF heating applications.
Its accuracy and high degree of sensitivity to temperature changes makes it a natural choice for a wide variety of applications. Moreover, the Neoptix field proven sensors are interchangeable and no calibration or inconvenient gage factors are required when changing sensors. The NOMAD-Touch comes with a complete one-year international warranty and is backed by the Neoptix "48-hours Service" policy.
The NOMAD-Touch is the ideal instrument for checking the operation of probes during transformer manufacturing.
Literature/images
Literature
For a product brochure of the NOMAD-Touch Signal Conditioner, please contact Neoptix
Accessories
Specific accessories specifically designed to complement and enhanced your NOMAD-Touch portable thermometer:
NOMAD-Touch Wall Mount (NMD-WMT)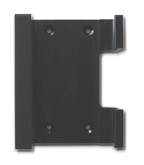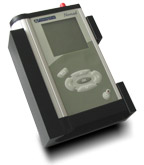 Shoulder strap and protective thermoplastic elastomer end caps (NMD-CAP)

Half-meter fiber optic extension cable (EXT-3MP-0.5)