T/Guard Link (RevB) System
Description

Small and sturdy enclosure
Tough and ruggedized sensors
No gage factor or calibration
RS-485 Serial communication (MODBUS and ASCII)
4-20mA analog outputs
Accuracy of ±1 °C
Available with 2 to 8 channels
Up to 256 channels (with the Modbus protocol)
Detachable connector blocks for easy installation
The Neoptix T/Guard Link (RevB) is a small form factor and cost oriented fiber optic hot spot monitoring system specifically designed for small and midsize dry type and oil-filled power transformers
For a product brochure of the T/Guard Link (RevB) Signal Conditioner, please contact Neoptix
The Neoptix™ T/Guard™ Link (RevB) is a cost-oriented multi-channel fiber optic temperature monitoring system for dry-type or oil-filled power transformer hot spot measurements. The T/Guard Link (RevB) has a small footprint and has been developed with long-term performance and stability in mind. This fiber-optic temperature monitoring system for small and medium size power transformers is accurate, rugged and designed for the long-term life of the transformer.
Coupled with the T/Guard Link (RevB) system, the Neoptix™ T2™ fiber-optic temperature probe provides accurate and direct temperature monitoring of transformer windings. This solution provides a realistic, real-time view of winding conditions that is quicker and more accurate than top oil thermocouple measurements, and greatly complements indirect measurements based on thermal models.
Neoptix™ T/Guard Link (RevB) gives the exact temperature of optical probes in 200 milliseconds per channel. Peak load or emergency overloads are thus detected almost instantaneously. With the Neoptix technology, you have a new tool to optimize high-voltage transformer performance and life expectancy.
The T/Guard Link (RevB) system is specifically designed to meet power transformer industry requirements: extended intervals between servicing, low maintenance, rugged components and the ability to withstand the harshest conditions. All components have been specifically selected for long term performance, including the light source that has an MTBF superior (>300 years of use) to the expected life of the transformer. Moreover, compared to other technologies available on the market, like fluorescent decay, our sensor does not fade or drift over time. This allows a constant and absolute temperature measurement of your transformer windings over the lifespan of the equipment. The Neoptix system is based on the proven GaAs semiconductor technology and incorporates an original algorithm to analyze the signal, providing repeatable and reproducible measurements.
Our fiber-optic probes are made only with dielectric materials and are designed to withstand initial manufacturing conditions. The probes can withstand kerosene desorption and heat runs, as well as long term oil immersion and vibration. Moreover, the Neoptix™ temperature probes are interchangeable and no calibration or inconvenient gage factors are required when interfacing sensors.
The T/Guard system is easy to interface to an existing marshaling or substation system via its isolated 4-20 mA analog outputs or its serial or MODBUS RTU communication interface. Users can count on an optically isolated RS-485 communication port. Visual communication activity LEDs simplify installation.
The T/Guard Link (RevB) can be interfaced with Neoptix OptiLink's software, allowing complete control over the system for the setup and configuration. The software also provides a data logging option to record temperature points directly into a Microsoft™ Excel™ file.
The T/Guard Link (RevB) is the perfect system for a small transformer, an embedded system or for the cost-conscious user. It is available with 1 to 8 optical channels. Moreover, the mounting brackets are integrated directly onto the T/Guard Link (RevB) box, providing a quick and robust installation in the transformer control cabinet.
Accessories
Specific accessories specifically designed to complement and enhance your T/Guard Link (RevB) System:

OptiLink-II Software control and datalogging software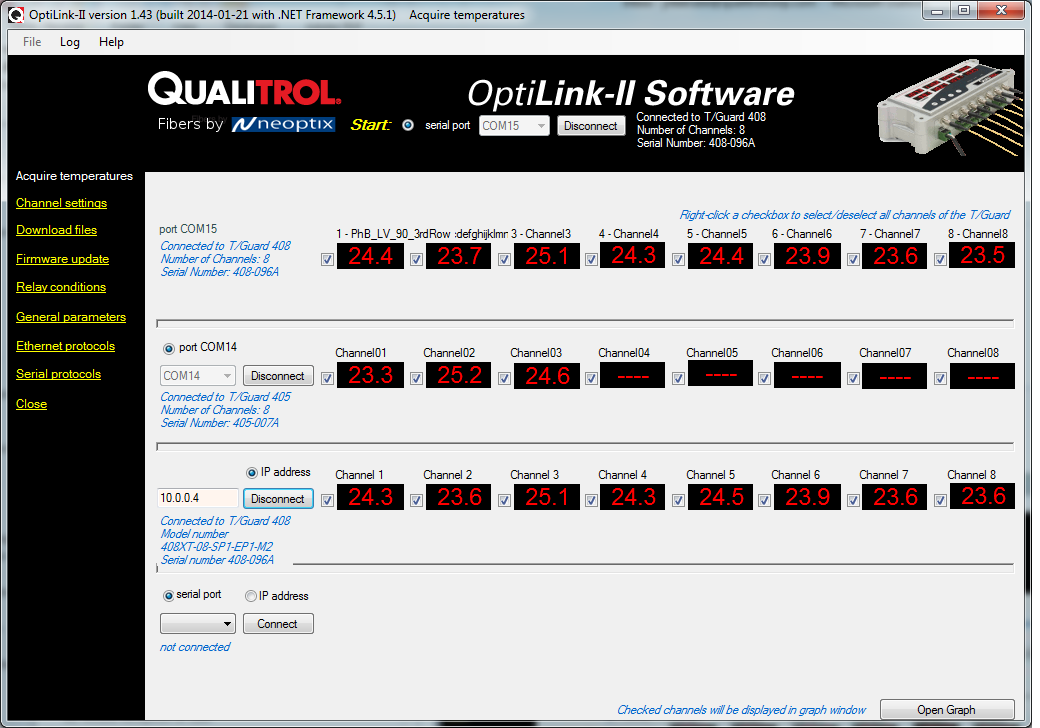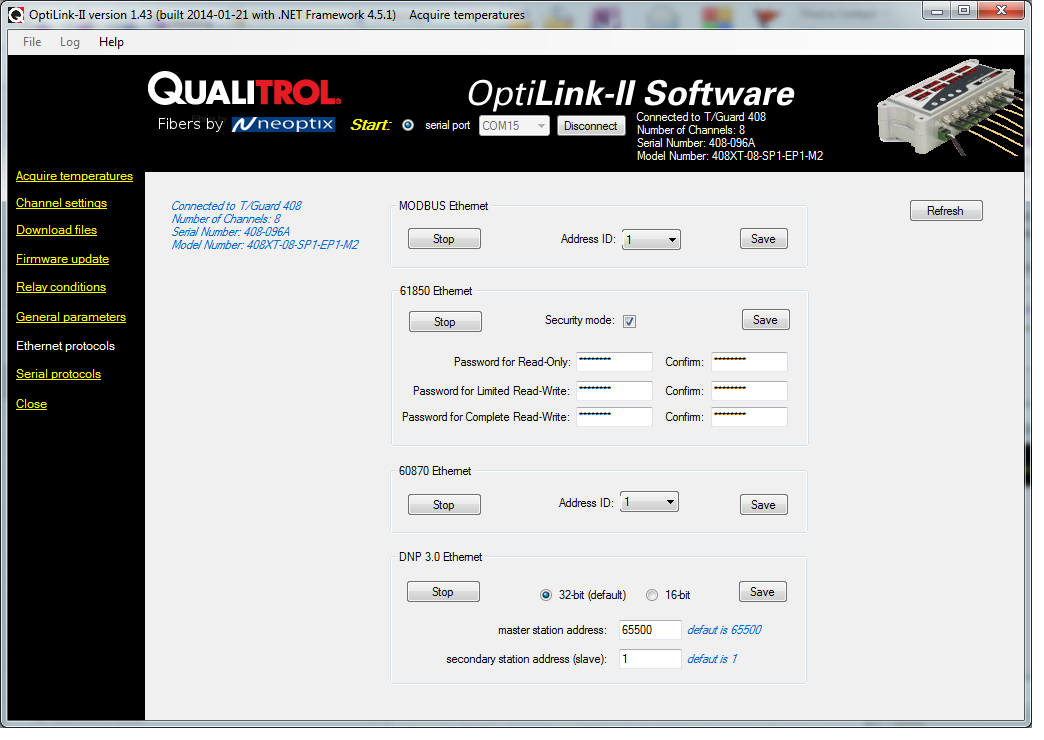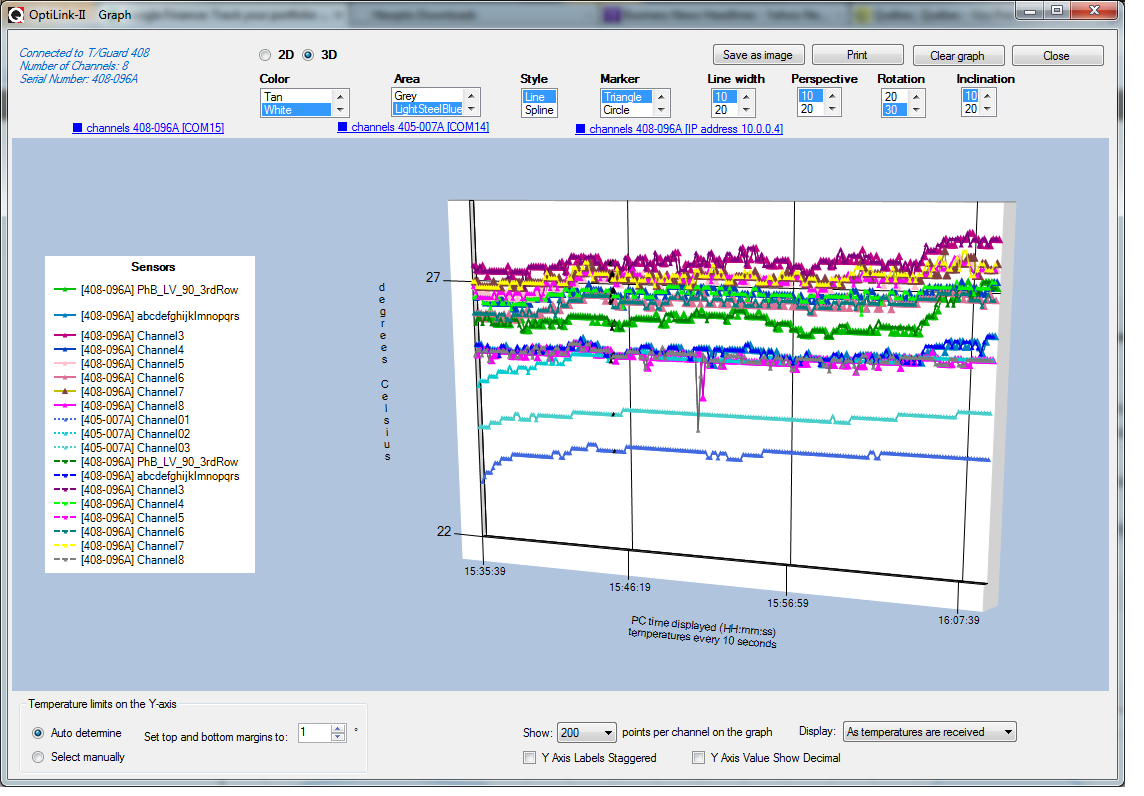 DIN Rail mountable power supply (Part: TGD-DPS)
DIN rail mountable 24 VDC universal (90-265VAC @ 47-63 Hz or 110~370 VDC), 0.75A, power supply for your T/Guard Signal Conditioner.
RS-485 to USB adapter
(Part: NXP-349)
USB to RS-485 adapter, with a 0.5m cable and a terminal block for connection to the serial port of the T/Guard-408 system. Include a 1-meter USB cable. Ground isolation of 2,000V. With software drivers for Windows.