T1 Fiber Optic Temperature Probe
Description

Fast response time
-270 to +250°C range
Cryogenic range available
No gage factor or calibration
Solvent and chemical resistant
Calibrated accuracy of ± 0.2°C
A multiple use fiber optic temperature sensor for measurement in laboratory, industrial and cryogenic applications
For a product brochure of the T1 fiber optic temperature probe, please contact Neoptix
Neoptix T1™ optical temperature sensor is specifically designed for general use in laboratories, industrial and cryogenic applications. It features complete immunity to microwaves and RF (EMI/RFI), high voltage and harsh environments. It has a high resistance to a wide range of temperature and meets all requirements for long term survivability to chemicals and solvents. Also, Neoptix optical temperature sensors are intrinsically safe and are perfectly adapted to temperature measurement in critical or explosive areas.
As all Neoptix probes, the «T1» does not require any recalibration or complex «gage factor» input to operate. The small optical fiber diameter allows very sharp bending radius.
The standard probe has a response time of less than 500 milliseconds. A faster version is available with a response time of 35 milliseconds. The size of the sensitive area is 300 microns in diameter.
The outer protective jacket is made out of pure virgin PTFE Teflon™ and has a diameter of 1.15 millimeters. It has a standard length of 2 meters and features a ST connector. The T1 can be ordered with a MW/RF immune dielectric connector made out of Ultem material.
The operating temperature range from minus 270 to 250 Degrees Celcius (-455 to 482 ºF ). Optionally, this sensor can be ordered with a temperature range as low as 2 Kelvin. Its uncalibrated accuracy is ±0.8 ºC. The T1 probe can also be used in a high vacuum environment.
Neoptix T1™ optical temperature sensor is designed to perfectly mate with our complete line of signal conditioners including the Nomad handheld, the Reflex™ and the Omniflex™. The sensor is delivered with a NIST traceable Calibration Certificate.
.
Literature/images
ORDERING CODES: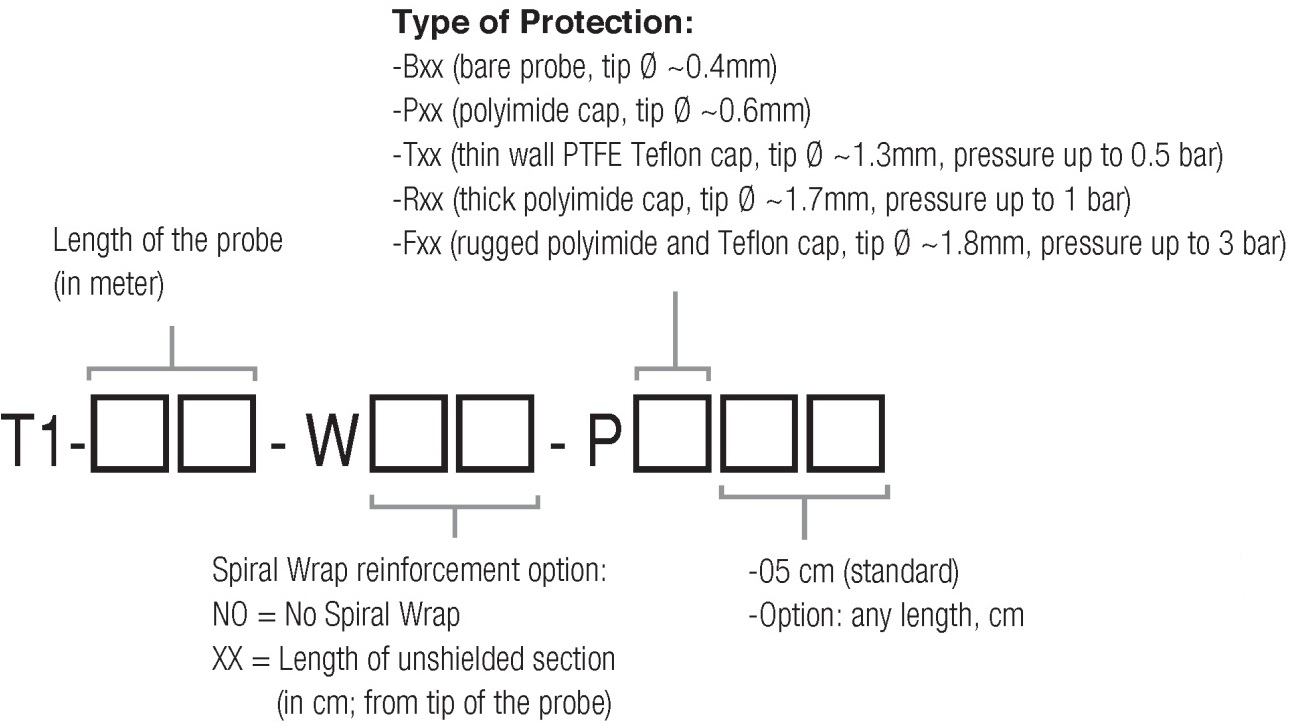 LITERATURE
For a product brochure of the T1 fiber optic temperature probe, please contact Neoptix

IMAGES

Accessories
T1 probe plastic box

Supplementary plastic box to store your T1 fiber optic temperature probe.
Free of charge
Fits: T1 general temperature probe
Part number: T1S-CAS
T1 Teflon protective cap

Teflon (PTFE/FEP) protective cap option for T1 temperature probe, 5 cm length, other length available on request
Part number: NXP-101
T1 Teflon protective spiral wrap

PTFE Teflon protective spiral wrap for T1 temperature probe, custom length. Add strength to your T1 fiber optic temperature probe
Part number: NXP-100